Attracting and retaining talent is a very common challenge according to 83% of the business owners in America. Modern employees have more options than ever before when it comes to where they can work. Business owners must work hard to make their company a place where people want to work.
It is possible to simplify the hiring process, and a lot of companies are using shortened methods for reaching candidates. However, if used in the wrong way, these shortcuts can cause more harm than good. 
Attract the Right Candidates
Missing strong candidates because of the lack of time or poor judgment during the shortened process is one problematic area. However, simplifying the process and having a productive hiring method is possible, when using solutions like applicant tracking systems. You can check Applicant Tracking Systems for more information on what these systems can achieve and how they can benefit you and your HR department. 
If you want to attract the best and brightest employees, creating a brand is vital.
Your employer brand should be representative of things like your company culture and values. Working hand in hand with your HR department is the best way to build a successful and respected employer brand.
Here are some of the factors to consider when working with your HR department to build a strong employer brand.
Stating the Mission of Your Employer Brand
Before you can start to work out the details of enforcing your employer brand, identify key principles you want the brand to be based on. Figuring this information out is much easier when working with key members of your HR department. HR professionals know what matters to employees.
Getting an idea of what today's employees are looking for and how to meet those needs is crucial. Making sure your HR department is involved in this process creates continuity with your employer branding.
Without this teamwork, new employees may be disappointed if HR is unable to make good on the promises you have made. Consistently disappointing new employees could lead to retention problems and the tarnishing of your employer brand.
Getting Feedback Can Help You Fix Branding Issues
One of the biggest mistakes a business owner can make when it comes to employer branding is failing to get feedback from employees. When bringing new employees on board, it's wise to consult with them throughout the process. By keeping new employees informed, you can figure out where problems exist in the onboarding process and how to fix them.
Ignoring glitches in your existing employee hiring and training process could be a recipe for disaster. The longer you wait to address these issues, the harder you may find it to keep attracting a steady stream of quality candidates. Listening to the concerns of your team is vital if you want to create a company culture of caring and understanding.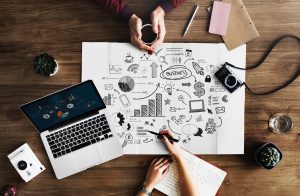 Staying on the Cutting Edge of Technology
Staying competitive in the business world takes a lot of hard work. One of the best ways to give your business a competitive edge is by staying "in the know" about modern technology. There are tons of tools available for business owners who are trying to optimize their HR department.
Investing in things like human resource information systems is crucial when trying to avoid mistakes during the employee hiring and management process.
To Conclude
Attempting to build and manage a great employer brand on your own is ineffective, which is why involving key members of your HR department is so important. Ensure all key members of your HR and marketing teams are privy to the decision-making behind the building of your employer brand to pass on each department's expertise. 
When HR and marketing work together, potential employees are met with a consistent and cohesive employer brand they can trust.