Teams are put together to combine the knowledge and expertise of team members, this helps to gain greater strategic thinking and enhanced creativity in business solutions. When teams fail to perform as expected, an attempt is usually made to pinpoint and blame the people responsible. However, the answer doesn't always lie in replacing the team or firing the 'scapegoat' but in answering the question, 'What went wrong with the group as a whole and why?' Unless we make an attempt to identify the underlying causes, it's unlikely the solution will be found.
Factors Identifying Six Common Problem Areas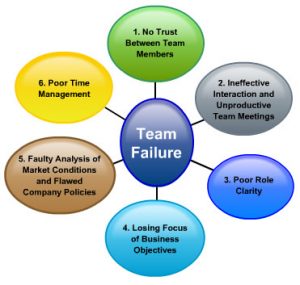 How do these Factors Affect Team Performance?
Conclusions on Team Failure
Anyone who has seen The Apprentice has witnessed how the teams react in the 'board room' when it's time for someone to get fired. When they defend themselves, no one wants to take responsibility for their actions and they try to pin the blame on a convenient scapegoat. The candidates tend to sell each other out in a bid to survive. The rivalry, the bickering and the back-biting make TV ratings soar, but there are lessons to be learned here as well. It's a snapshot of the kind of things that can go wrong in office teams. It's mainly factors such as poor judgment, egos, mistrust or losing sight of key objective that become apparent.
The 6 points discussed here encapsulate the key issues that can lead to team failure. Team managers and team leaders have to take measures to protect the team from these 6 chains that can wrap themselves around the team and degenerate its performance. Diagnosing is the first step in solving the problem. Some of the issues such as role clarity or losing focus of business objectives can be solved by a discussion with the team members. Some of the other problems like poor trust, poor time management, and poor team interaction can be better tackled through team building exercises.
Let's now look at the other side of the coin, success. If success is what the team is after, then what is it that is expected of teams? What should they do to be successful?
Understand their goals
Interact, communicate effectively, explore ideas and innovative approaches
Be loyal, co-operative, willing to share information and lend a helping hand
Understand market realities and develop a sound strategy
Keep time frames in mind
Know their responsibility within the team and focus on results
All this may seem like a tall order but is actually achievable. Everybody on a team is naturally equipped to deal with these factors, the only exception being 'flawed company policies', which is up to corporate management to resolve.
When teams in an organisation display problems, then the solution may lie in a deeper analysis of the problem and exploring the areas mentioned above to find a resolution.